NSIIP's Strategic Plan (2016-2019) outlines priorities, goals, and objectives that will ensure that North Shore progresses towards its vision of a fully inclusive community where everyone has a sense of belonging. The priorities and goals have been established to build upon the North Shore's existing strengths and assets and to nurture the growth of a community where newcomers have the opportunity to fully participate economically, socially, culturally, and civically. 
The strategic planning process is dynamic and iterative and NSIIP strives to be responsive to the changing needs of an increasing diverse North Shore community.  Working from the foundation set forward in NSIIP's 2016-2019 Strategic Plan, a new strategic document was developed to outline emerging Priorities and Objectives 2019-2020 and guide the work of the planning table.
Strong community partnerships are integral to achieving our objectives. With our partners, we work to systematically improve the settlement outcomes for North Shore newcomers and support their long-term engagement in our communities. The key pillars guiding our work include:  a strong vision; collaboration; centering immigrant voices; evaluation & improvement; and sharing insights.  Alongside NSIIP'S Vision and Mission statement, these pillars inform our Theory of Change and articulate a bold vision of creating an inclusive, equitable North Shore community.
Research & Community Consultations
Extensive local research and community consultations inform the foundation of our Strategic Plan. We consulted numerous service providers across North Shore, and engaged with hundreds of the region's major employers to discuss skills and labour shortages, and get their thoughts on potential career entry points for newcomers. We also collected valuable data from the census, surveys, and focus groups with immigrants and community leaders to review key newcomer demographics and gain insight into priority issues and areas for improvements.
The key stages of our research is summarized in a graphic timeline below, with downloadable PDF reports located at the bottom of the page.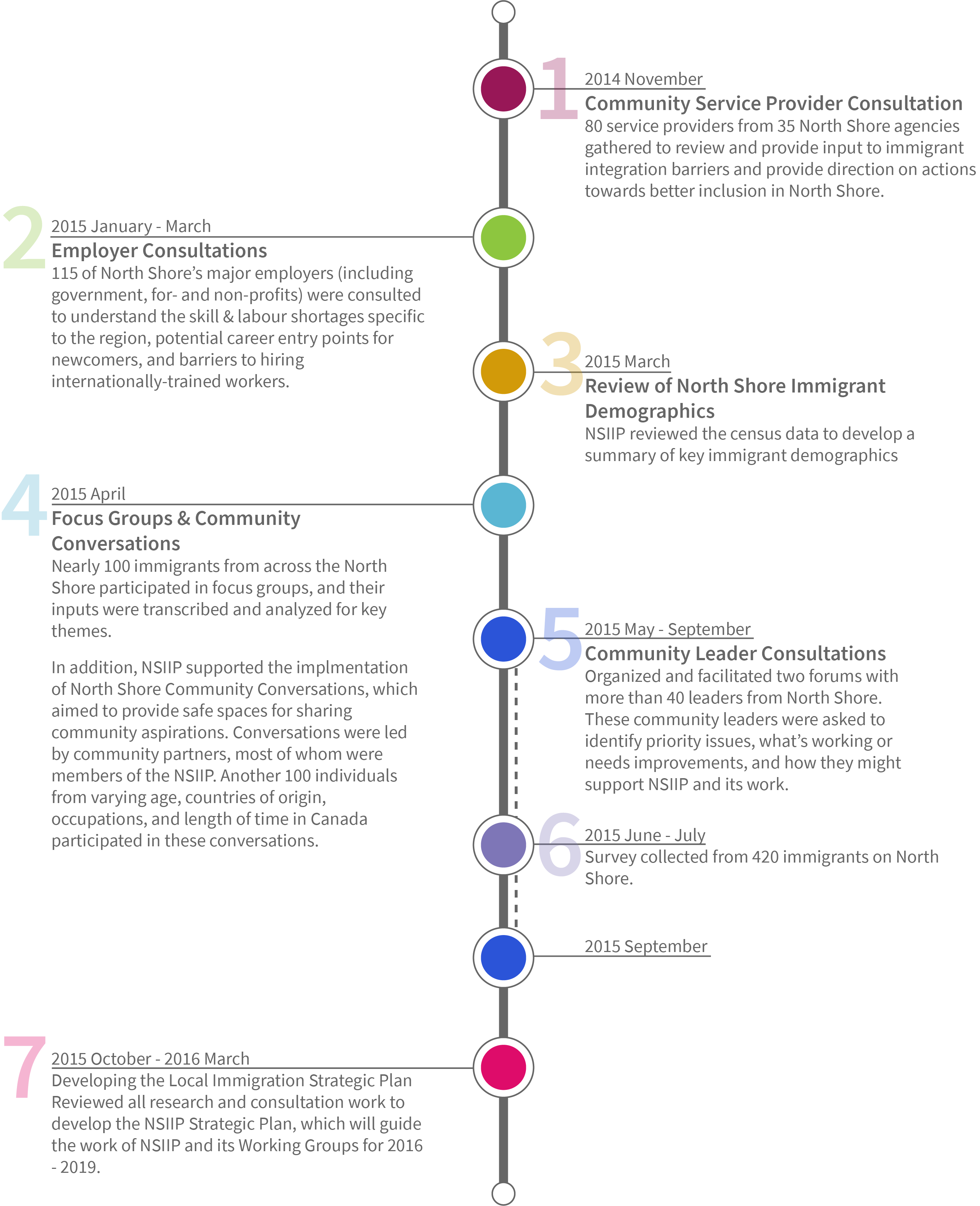 Contact Us | Site Map | Privacy Policy
Copyright ©2019 NSIIP.ca. All rights reserved.