Plain Language Workshop
September 4, 2018
Learn how to make ease of reading a top priority when you write and format your program's communications.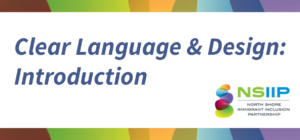 Put Clear Language and Design (CLAD) into practice by balancing fonts, white space, and images, and choose clear wording and know that your message will be read and understood at a glance.
When: Tuesday, October 16 from 10am to 12:30pm
Agenda: 
Training session with Kate Longpre (ICA) on how to use the Google Translate app; please bring your smartphone or tablet with the Google Translate app installed
Discussion on policy and procedure considerations for incorporating the Google Translate app in service delivery
The event is free. Please RSVP at: https://nsiip-plain-language.eventbrite.com
You can also download the event poster here.
Back