Weaving our Humanity: An Evening of Story
Date: November 19, 2016
Venue: Presentation House Theatre, North Vancouver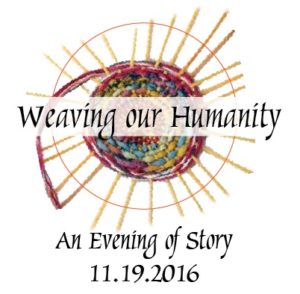 Doors open at 6:30. Event begins at 7pm sharp and runs until 9:30pm.
at the Presentation House Theatre
An evening of story and music from your North Shore neighbours.
Hear about belonging and missed connection, vulnerability and courage.
Hear about what friendship and humanity across cultures mean in our diverse community.
Hosted by Veena Sood
Hear these local North Shore Story Tellers:
Mas Yamamoto was born in Canada in 1927 to immigrant parents originally from Japan. He has been living in the North Shore for the past 45 years.
Janet Zhu is a Canadian citizen who was born in Shanghai, China, and she is now living in the District of North Vancouver.
Sahar Sajjadi is a Grade 12 student, who is originally from Iran and now lives in North Vancouver. She is a recipient of the 2015 Youth Civic Award from the City of North Vancouver.
Hear this popular public speaker, Dr. Gurdeep Parhar, who recently delivered a Tedx Talk entitled "Fixing Racism", seen by over 300,000 viewers in many countries. He is the Executive Associate Dean of Clinical Partnerships and Professionalism at the UBC Faculty of Medicine and was once the Acting Associate Vice President for Equity and Inclusion at UBC.
And, lift your spirits with fun music performances by:
The Brockton School's World Music Program dancing to the beats of marimbas from Zimbabwe; and the Vancouver Inter-Cultural Orchestra with a fusion of traditional instruments and sounds.
We also are pleased to have MLA Naomi Yamamoto join us to proclaim BC Multiculturalism Week for the first time in the North Shore.
For event updates, please visit: http://www.facebook.com/events/1165782863460532/ 
Tickets to this FREE event are required for entrance. To reserve your complimentary seats call 604.990.3474 or email boxoffice@phtheatre.org
This is a collaborative project of the North Shore Immigrant Inclusion Partnership managed by the North Shore Multicultural Society.
Back